Review of "Portraits of Tibet"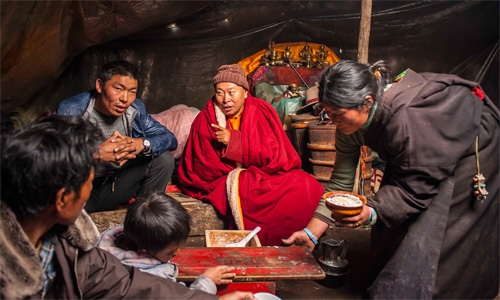 Book Review by Nicholas Breeze Wood,
Sacred Hoop Magazine
A full colour book of photos of Tibetans, each photo a jewel, taken by the very gifted photographer Diane Barker, who has had a deep love affair with Tibet and Tibetan culture for decades. I've known Diane's photos for many years, and many of you will have seen her exquisite photos in various books and other places, probably without knowing who took the photo.
This is a sumptuous collection of 108 of her stunning photos, taken in the Amdo and Kham areas of Eastern Tibet, and mostly feature members of the nomadic families who live there, capturing them as they go about daily life.
Diane has a wonderful eye, and each and every image in this large format book invites you to jump in and be with the people. The colours, the light, the little details of domesticity and ritual captured in the photos - and the clothes, I adore the clothes, oh man, Western clothes are so bloody drab in comparison - are all gorgeous A truly beautiful, uplifting book - buy it, dive into it, wallow in it and be inspired....